Views: 449 | 19-11-2014 | Educational project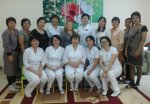 Professional Montessori teachers, working according to the Italian System of Early Development by Maria Montessori the essence of which is to engage a child into self education from his/her early life, started their work in Kyzylorda Orphanage. Recently the third final stage of this educational approach instruction was completed in the affiliated institution of our Foundation.

Saby Foundation defrays all expenses on organization of teaching process of 15 teachers of the Orphanage as well as opening and equipping of the Montessori Center. This seminar as well as previous ones was practical and lasted nearly two weeks. The participants received certificates of early development of children from birth to 3 years old by Eurasian Montessori Center of Pedagogics, Yekaterinburg.

Now the certified specialists can provide and support necessary atmosphere for the development of their little fosterlings, children who left without parental care.

more »»