Views: 325 | 08-12-2014 | Alem – support of young talents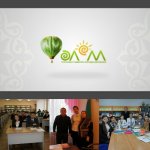 The employee of 'Saby' foundation visited Petropavlovsk city aimed to find the gifted children recently. This trip was done under the scope of the program intended to support gifted youths of 'Alem' program.

Our visit became a pleasant surprise as for the young northerners and for the administrations of the local schools, where they study – the representatives of the charity funds come there seldom. Educational program of 'Saby' foundation, kept everybody on the edge of their seats. In scope of this program, any gifted senior may compete for the grant on obtaining education in the best universities of Kazakhstan, as well as in the universities of near and far abroad. And despite of frost these meetings were warm and efficient.

Of course every graduate has own vision of his/her future. And 'Alem' program can become the starting point for his/her professional self-fulfillment and career development.

We wish success in studying for all youths we got known in Petropavlovsk and we believe that the talents from this northern region will become the members of 'Alem' soon.
more »»