Views: 422 | 18-12-2014 | "Orkendeu" Project » Children's villages of family type in Astana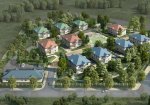 The works under the project of "Children Village of Family Type in Astana city" are continued.

The borders of the land parcel for construction, presented by the city, have been defined and marked along the perimeter.

All necessary technical specifications from corresponding service providers have been received.

The sketch of the object has been prepared, which was approved of the city-planning council of Astana. Simple and convenient solutions for comfortable living of orphan children and children without parental care are used in the project.

more »»