Views: 405 | 29-12-2014 | news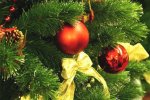 The time to welcome in New Year has come. The smell of sweet mandarin oranges, shine of golden spangles, pre-holiday fuss and cares. All people try to make this holiday hearty and unforgettable for their friends.
'Saby' Charitable Foundation cordially congratulates all Kazakhstan people with Happy New Year ! We wish you health, success, joy and prosperity. Let all your dearest dreams wished on New-Year's Eve come true!
more »»