Views: 405 | 16-01-2015 | Charitable Campaigns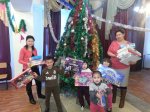 Periodically, especially on holidays, sponsors visit the Foundation and want to render single assistance for children, to do a good deed. In advance of the New Year THEFACESHOP Company, the multiple store of Korean cosmetics in Kazakhstan, turned to our Foundation with a request to find beneficiaries. Taking into account our wide experience the search of corresponding social institution did not take a lot of time: we recommended "Shymbulak" antiphthisic sanatorium for children, where nearly 300 little patients from social vulnerable families take rehabilitation treatment.

Children liked the New Year presents in the form of development games. What could be more important than the sunny smile on the child's face!

We thank all who are not indifferent to the fate of children in need.
more »»