Views: 389 | 12-02-2015 | Medical Project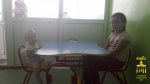 Saby Foundation replied on the application of the City Infectious Hospital For Children of Almaty city to purchase furniture for children with pleasure. Multicolored tables with chairs were manufactured by special order, at which children may not only have dinner, but play development games. In the conditions of hospital and shortage of vacant space it is necessary to combine everything.

Besides furniture, it was decided to gift computer equipment to the institution as well as electronic weighting unit for babies.

Saby foundation often holds one-time campaigns, because all money received from sponsors are usually spent on previously approved projects. These presents became possible thanks to money which we received from you, our friends, through QIWI payment terminals. Thus, little by little, together you made a great deal!

Thank you!

P.S. in continuation of this campaign one of the friends of the foundation presented playpens with mattress to children from "infectious" department, because there existed acute need in such things.
more »»