Views: 642 | 16-02-2015 | The streets of southern capital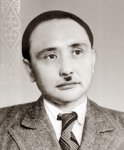 There is a small street in Almaty about 1 km long, located to the east of the Esentai river, begins from the Timiryazev street (link to an article about Timiryazev street) and crosses just 2 streets - Popov and Al-Farabi. It is named after the Kazakh Soviet writer, playwright, doctor, scientist - Zein Shashkin.

Zein Shashkin (1912 - 1966 yrs.) - A man with a difficult life like many of his contemporaries. During his lifetime he was called the "Kazakh Chekhov": he had medical education and as a Practicing Physician he graduated from the Moscow Institute of History, Philosophy and Literature, and continued "medical" line in the literature after Chekhov, Veresaev, Bulgakov, Conan Doyle.
He was secretary of the Komsomol City Committee of Karaganda, a teacher at the teachers colleges in Semipalatinsk and Alma-Ata.

His first works were in the 30s, a literary work "Features the poetry of Abai" (1934) was the most notable, and a few years in collaboration with E. Ismailov Z. Shashkin made "The educational book on theory of literature" for colleges. Then, a streak of bad luck started in the life of a young writer– he was run over with an asphalt compactor of repressions. Harsh destiny of the member of intellectuals branded as "an enemy of the people" coincides with just the early years. Then he ruined his health and, although he survived into rehabilitation and subsequently did much, but passed away at the peak of his career – at the age of 54.

more »»