Views: 659 | 23-02-2015 | Wisdom of the Great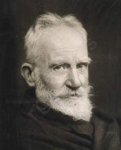 George Bernard Shaw was the only person who was awarded both the Nobel prize and Oscar. He is the most renowned and distinguished critic of his days and dramaturge who wrote in the English language after Shakespeare.

His subtle quotations show the profound world view:
1. My way of joking is to tell the truth
2. Self-sacrifice enables us to sacrifice other people without blushing.
more »»