Views: 589 | 27-02-2015 | news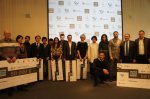 The results of "Build Your Business" Contest, so much expected by both participants and observers, were announced on February 27 in the business hall of "Dostyk" hotel.

The grand prize in the amount of 100, 000 US dollars has been divided between the projects: «Processing of tires into roof material» and ''KASSENGALY HANDMADE'' . Being experienced businessmen, the sponsors of the competition Kenes Rakishev and Vyacheslav Kim explained this decision by the fact that "any business at every stage of its existence shall receive adequate financing, otherwise the crisis of overproduction will lead to its failure". Financial influence in 50, 000 US dollars is the sum which these enterprises need for the development. One more decision has been taken by the sponsors the day before the declaration of results: to increase the quantity of grants by 20, 000 US dollars. Therefore, 7 participants, but not 5 ones as expected, received this sum.
more »»