Views: 286 | 01-09-2015 | Sport-Health-Achievement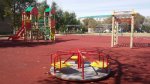 The fosterlings of Aktobe Special School No 7 received a wonderful present by the 1st of September made by our Foundation: children playground has been put in commission!

Playground of 525 sqm in area includes diversified equipment. There are slide, swings and roundabouts, climbing passages and big gymnastic set with horizontal bars, ropes, walls for climbing which are designed taking into account different extent of physical activity.

After action games and intensive classes children can rest on garden seats and settees or they just can sit or lie on special injury-safe soft, comfort, rubbered carpet, by which the whole playground is covered.

As we previously mentioned, it is the 31st object in the "service record" of the Sport Project of "Saby" Foundation.

Phoros here.
more »»