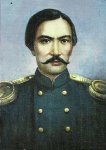 The street, named after the Kazakh scholar, Shokan Ualikhanov,with the length of about 3.5 km, is in the Northwestern part of the city between Pushkin Street and Kunaev Street and runs from Rayimbek Avenue to Satpayev Street.

Shokan Chingisovich Ualikhanov (1835-1865), the great Kazakh orientalist, historian, ethnographer, geographer, folklorist, translator, journalist, and traveler was born in 1835 in the fortress Kushmurune near Kostanay.

The boy's childhood passed in a family estate of his grandmother, Ayganym, in Syrymbet. His father was a Chingis, a Senior Sultan; his grandfather was Uali Khan; his great-grandfather was Abylai Khan.
At the age of twelve Ciocan entered the Siberian Cadet Corps in Omsk, which was the best educational institution in Siberia at the time. At the Cadet Corps, he studied with enthusiasmand in two or three years he caught up and surpassed their peers in knowledge.

In 1852, Shokan met the Orientalist, I.N.Berezin, and at his request, he wrote the article 'Khan's labels of Tokhtamysh.' It was his first scientific paper. When Shokan was about 14-15, the teachers said that he would be a scientist.