Views: 500 | 24-12-2015 | Alem – support of young talents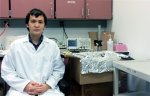 Only recently launched "Alem" program has already prepared its mentee for individual life. Here we wrote about our first graduates.

Today we want to tell about one more "Alem" participant, who recently graduated from the University of California, Los Angeles, with the master's program in "Microelectronics, Nanotechnology and its Practical Use in Biology and Medicine".

Akhazhanov Ablaikhan received support from "Saby" Foundation a year and a half ago, and now he would have still to study on the Master's degree program, but he decided to precipitate the course of events. He studied zealously, in summer he worked in the University laboratory, where showed impressive results in research activities. Thanks to painstaking work and aspiration, Ablaikhan finished the Master's program prematurely, having saved the whole year and promoted to PhD, where he continued to study electrical impedance tomography.

Moreover, Ablaikhan's talent and potential were highly esteemed by the experts of the University of California and our "Alem" participant's further education will be financed for account of the National Scientific Fund of Mechanical Engineering Department of UCLA, from funds of which Ablaikhan received educational grant.
more »»