Views: 328 | 04-02-2016 | Alem – support of young talents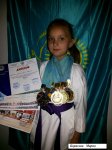 The "Alem" Programme for support of young talents is intended to assist children with talents in various fields of science, arts and sports .

Therefore, we could not pay no attention to the request of 10-year-old Masha Borisova, who, despite her young age, who has 1st dan rank of Shotokan Karate and many diplomas and certificates for winning in various competitions.

A girl from a multi-child family has gone in for karate from 4 years and have never missed any lesson! Of course, such a sense of purpose and will to win should be supported.

"Saby" Fund decided to pay to the young sports star the visit to "Martial Arts Olympics East-West 2016", which will be held in May 2016 in St Petersburg.

Masha became the youngest participants of the "Alem" Programme.
more »»