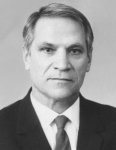 In 2003, according to the decision of the local maslikhat, one of the streets of Almaty was named in honor of the people's writer Dmitriy Snegin. A small low-speed residential Snegin Street is located to the north from the avenue named after Al-Farabi, between Dostyk Avenue and Furmanov Street, and it has a length of 1 km.

Snegin Dmitriy Fyodorovich (real surname — Potseluiev; November 7, 1911 — March 31,2001) — a Soviet writer, screenwriter, People's Writer of the Kazakh SSR (1984).


Biography is presented in the Russian language

Есть люди, которые всю жизнь остаются верны месту своего рождения. Остаются верны и своим призванием, и своим творчеством, и своей реальной жизнью. Из их числа народный писатель Казахстана, лауреат Президентской премии мира и согласия, участник Великой Отечественной войны, народный депутат, общественный деятель, награжденный орденами Красной Звезды, Боевого Красного Знамени, Трудового Красного Знамени, «Знак Почета», «Дружбы народов».