Views: 335 | 16-03-2016 | Alem – support of young talents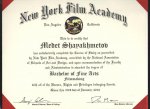 We have already written about our Alem participant who won in 2012 the first international educational grant for the Alem Young Talents Support Program of Saby Foundation, Medet Shayakhmetov.

So, having studied at New York Film Academy for 3 years and having completed the full course in the speciality of Film Making, Medet became a degreed graduate of the most prestigious film school in the world!

At the age of 22 a young filmmaker has great creative experience. He has worked with famous Kazakhstani actors, made Q-eli sitcom in his country, implemented a lot of projects with Russian «stars», and participated in Sedona International Film Festival in the USA in the nominated category of «The Best Short Film» at the end of this February, and even though he did not get any prizes, he gained great experience and creative power.

We wish Medet progress in his career!

more »»