Views: 486 | 25-03-2016 | Wisdom of the Great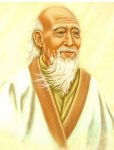 Laozi (Laozi, Old Child, Wise Elder) is a legendary philosopher-thinker who lived in the VI-Vth centuries B.C.E. He is considered to be the author of the Tao–te Ching (The Book of the Way and Its Virtue) - classic Taoist philosophical treatise, the founder of religious and philosophical Taoism, though today many scientists are skeptical about his historicity.

Laozi was a contemporary of Confucius and his opponent, and a very significant wise man of the Chinese culture as well. Although the historicity of Laozi is doubtful, the respect of Taoist schools for him cannot be overestimated.

Laozi's sayings popular with Taoist schoolers:

About truth: "He who knows does not speak. He who speaks does not know".

About knowledge: "No knowledge; that's why I do not know anything".

About abstinence: "This is the first stage of virtue which is the beginning of moral perfection".
more »»