Views: 280 | 04-05-2016 | Medical Project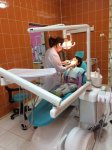 "Shymbulak" Antiphthisic Sanatorium for Children of Almaty city - one of the longtime supervisees of our Foundation. Since 2007 "Saby" Foundation regularly rendered assistance to this institution: big playground for children was built, room for therapeutic exercise was repaired and equipped, New Year presents and congratulations were organized for little patients, annual subscription for children newspapers and magazines was taken out several years.

Also in 2007 dental department was opened in the sanatorium, because more than 1000 children from low-income and socially deprived families were taken rehabilitation therapy here and 80% of them need mouth cavity sanitation.

Dental treatment unit, which purchased our Foundation, had gone out of date and there arose the necessity to change it for modern equipment.

"Saby" Foundation took the decision to help the Antiphthisic Sanatorium again. New dental unit and mobile drawer unit for medical appliances were purchased. Now children may receive competent and unpainful treatment in comfort conditions.

more »»