Views: 386 | 15-06-2016 | Alem – support of young talents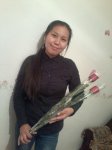 The results of the Sixth Poetical Contest in the state language, annually declared by Saby Foundation, have been summarized.

The applications on literary contest came from different regions of the country. The main expert in the field of literature, who prepared his review on contest works, became the famous children's poet, translator, a member of the Union of Writers of Kazakhstan, deputy editor in chief of "Baldyrgan" magazine Koshym-Nogay Baibota Serikbayuly.

This year the expert highly appreciated the works of only one participant among all young poets – Dina Bokebay, a 10-grade pupil of School No 25 of Kozhabaky village, Kazalinskiy district of Kyzylorda region. The expert distinguished not only technical advantages of the young poetess's syllable, but accentuated her world view and keen perception of the poetry.

Thus, Dina Bokebay becomes the winner of our contest and receives the grand prize- notebook and the unique opportunity to compete for the educational grant of Saby Foundation within a framework of the "Alem" Young Talents Support Program next year. Please find hereby one of Dina's contest work.
more »»