Views: 306 | 22-06-2016 | Sport-Health-Achievement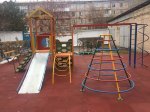 Children playground in the Adaptation Center for Underage Children in Petropavlovsk, North-Kazakhstan region, about which we had written earlier , has been put in commission.

We planned to complete the works as far back as in May, but weather conditions surprised the whole Kazakhstan this year, allow to make it only now.

Little fosterlings of the Adaptation Center received as the present a playground with carousel, exercise bike, play structure with safe rubber cover.

This is the 33rd facility, built by Saby Foundation within the frameworks of the Sport Project.
more »»