Views: 385 | 07-07-2016 | Medical Project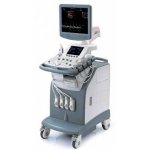 A sad fact: there are still health care centers, which have a necessity in vital medical equipment for providing people with professional assistance.

Among them, the Akmola Regional Hospital No. 02, which treats about 200 000 patients coming from the seven regional districts annually. This organization provides children, inclusive of the newborns, who were born in the delivery department, with urgent and planned in-hospital medical aid. However, insufficient funding, which is carried out by the local budget, keeps from updating the material and technical resources of the hospital.

The Saby Foundation couldn`t but answer the authorities` appeal. Having conducted the necessary negotiations and conferences we bought some stationary ultrasonic diagnostics system of the premium class DC-7 Mindray with a multicolor Doppler and a 3D/4D capability. Also we have bought two humidifiers of breathing gas, which are designed for heating and humidification of gas supplying a patient during the process of lung ventilation.

The delivery of this equipment is expected to be in 2 months. It will be installed in the delivery department of the hospital.

more »»