Views: 380 | 20-07-2016 | "Orkendeu" Project » The High-school for 1200 places at the Almaty cit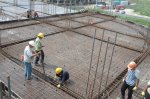 Construction works at the site of "Secondary school with 1,200 seats in Akzhar village of Nauryzbayskiy district of Almaty" are in progress.

Floor slabs are being reinforced and a formwork is set at the level + 9.8 m and 12.4 m in units 1, 6, 7, 8, 9. Cross beams are being cast in place at the level +3.2 m in units 2, 3. Brickwork of exterior walls with finishing works is carried out in units 4, 5. Concrete works at the zero circle are executed in unit 10.

Also, at the same time the installation of heating, plumbing, ventilation and sewerage systems is carried out.

See the construction process here.
more »»