Views: 388 | 03-08-2016 | Wisdom of the Great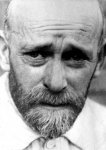 Janusz Korczak (Janusz Korczak; autonym – Hersh Henryk Goldszmit; 22 July 1878 –, Warsaw — 6 August 1942, Treblinka).

Poland gave to the world Janusz Korczak – the talented educator, writer and medical doctor.
This man lived in accordance with his pedagogical principles and died without breaking them although the fate gave him three times a chance for salvation.

First, Korczak did not leave the territory of Poland on the eve of the country's occupation by Nazi troops, unwilling to turn adrift the inmates of the "House of orphans." In 1940 Korczak with the children of foster home was caught in a ghetto at Warsaw. Then fans of Korczak's talent wanted to arrange his escape, but he rejected such proposals. The third time, fate gave him a chance at salvation before sending the train to the extermination camp. When the train was ready to depart a Nazi officer entered to the train. He approached to Korczak and asked:
— Are you Janusz Korczak? In my childhood I liked to read your book – King Matt the First. The train may go without you.
— What will become of the children?
—They will be taken to the camp. And you are free. You may get out of the car.
—No, I will not do it. Do not look on all the people as scoundrels.
more »»