Views: 317 | 19-08-2016 | Alem – support of young talents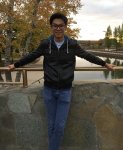 "Saby" Charitable Foundation within the framework of the "Alem" Young Talents Support Program has allocated international grant for education in Oxford to young scientist Dzhaguparov Alexander (in the photo).

Alexander graduated from Nazarbayev University with honours, was successfully trained in Summer semester in the University of Wisconsin-Madison, Wisconsin, USA (maximal academic progress GPA 4.0/4.0) and this year he received invitation for education in the Oxford University majoring in "Integrated Immunology", Master's degree program. This program will help the recent graduate to continue his research activity in the sphere of Biology and Immunology.

Currently the "Alem" participant prepares all necessary documents for receipt of visa to the United Kingdom; start of education is in October 2016.

more »»