Views: 353 | 11-10-2016 | Alem – support of young talents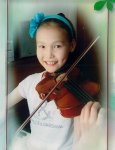 Human talent and diligence, especially if that is a child, should always be encouraged. But sometimes it happens so that the circumstances prevent for not only getting the deserved awards, but even a demonstration of their ability to prove to others and, above all, to yourself that you are worthy to be the best in your labor of love. It happened in the life of young violinist Malika Bekturova, repeat winner of national and international contests.

Malika is a 8th grade student of the Republican Special Musical Boarding School for gifted children named after K. Bayseitova in Almaty. Despite her young age, she manifests the unchildish perseverance and desire to achieve results, performing a seven-hour daily rehearsals for violin playing during the academic year and even on holidays. Her parents support the musical talent of their daughter and are doing their best that her activities will be worthily appreciated by leading musicians. But, unfortunately, this year they were not able to pay for the Malika's trip to the 4th International Contest of Violinists named after L. Auer in St. Petersburg.

The girl also has shown perseverance in this matter and began to look for additional ways to get after all to the contest. She found in the Internet our www.alemsaby.kz web-site and has filed an application to participate in the "Alem" program for supporting young talents organized by the "Saby" Foundation. After reviewing her resume the Fund management decided to support young talent and to finance her trip to the contest in the northern capital of Russia.
more »»