Views: 351 | 19-12-2016 | news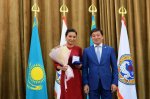 Saby Charitable Foundation Chief Executive Aselle Tasmagambetova has been recently awarded an honorary Order of Kurmet for her active social and charitable activity. She was awarded such honorary state award by the Akim of Almaty Baurzhan Baibek.

She has been helping orphans and children left without a parental care, talented children from socially disadvantaged families, children with serious health problems, physically challenged people, and she supports young entrepreneurs for more than 14 years.

Colleagues, beneficiaries and partners of the Saby Foundation congratulate Assel Imangaliyevna from the bottom of their hearts on the deserved state award and wish her great strength and faith in the good deeds commitment!

more »»