Views: 321 | 21-12-2016 | news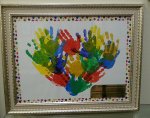 4 years ago in Kyzylorda, the Municipal Children's Home for 60 pupils was built and put into operation by Charitable Foundation "Saby". After its housing by young pupils, the object has received the status of a specialized institution, which means that now the children are not only socially upheld there but they also receive the necessary treatment. The result of such changes are obvious – the children begin to develop faster and less suffer from different diseases.

And now, a few years after the opening of the orphanage, the kids in gratitude presented the Charitable Foundation "Saby" with a touching gift. A drawing of the heart made of fingerprints of little hands, symbolizes the participation of many people in the performance of good deeds. They help children to open their hearts to a better future and to trust others.

We sincerely believe that a lot of work invested in children now will find a worthy response in the future!

more »»