Views: 357 | 15-02-2017 | Alem – support of young talents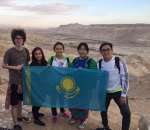 Six months ago, the Saby Foundation awarded grants for education at the Higher School of Computer of Israel to five best graduates of the Nazarbayev Intellectual School of Almaty. Immediately after the departure of our students we monitor their progress and life and today we are excited to receive news about their achievement of good results in study.

But not all seemed so rosy and easy for the students upon arrival in a foreign country. At first, the guys could not get used to the delivery mode that is different from our one, felt the language barrier as 85% of their fellow-students spoke Hebrew. The lecturers and supervisors of the Institution of Israel helped them to cope with the difficulties they had combining the Kazakh and Israeli students into a single cohesive and friendly team.

The Embassy of the Republic of Kazakhstan in Israel has provided substantial help in adaptation of the students often inviting them to the events organized in honor of the national holidays of the country, such as the 25th anniversary of Independence of Kazakhstan, New Year, etc.

Despite the difficult curriculum, the guys enjoy studying at the Israeli University. According to them all lecturers are tolerant and the fellow students are very friendly and kindly.

more »»