Views: 438 | 08-06-2017 | "Orkendeu" Project » Social hostel for the orphanage leavers in the cit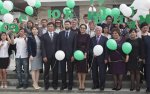 Yesterday, there was a formal opening of Meyirim Youth Social Adaptation Center in Aktobe, built with financial support of Saby Charitable Foundation. Asel Tasmagambetova, the president of the foundation, Kenes Rakishev, a well-known Kazakhstan businessman and philanthropist, and Berdybek Saparbaev, akim of Aktobe region, took part in the opening.

Meyirim Center will be a social home for orphans and young people with no parental care aged under 29. Four two-storey blocks with beds for 80 people in total are provided for comfortable stay of the residents. Ground storeys are equipped for convenient movement of wheelchair users. Total area of the territory is 3 ha, where the space of the buildings and structures is 6000 sq. m.

The graduates of special care homes for children with disabilities, who are mostly in need of housing and employment after leaving orphanages, will live and work here. But often it is very difficult for them to find a job and get a profession. For that reason, Meyirim Center has mini-workshops, work-rooms, events hall, greenhouses and sports grounds. Young people will be able to learn highly-sought professions and get work experience and record of service necessary for their further employment.
more »»