Views: 95 | 07-12-2017 | news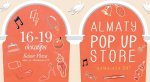 Friends, we hasten to inform you that the "Saby" Foundation will participate in the anniversary tenth season of the Almaty Pop Up Store!
As part of the conceptual fair, we will present our project "Build your own business". As you know, this is an annual contest that helps young entrepreneurs to develop their business through cash grants. All the finalists of the project "Build your own business" will share their successes at the exhibition business site. Visitors to the fair will be able to acquaint themselves with the products and services provided of the participants of "Kozhe", "Balalarum", "MSDC", "Nur-Academy", "AquaPoint", "Qazaq Study" and many others.
more »»